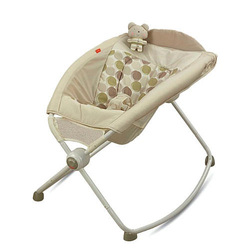 Fisher-Price Newborn Rock 'N Play
This little crib wanna-be is a miracle worker.  It is lightweight, travels well, and so far has been Owen's primary bed.  It slopes at about a 30 degree angle with mesh walls on the sides, making it safe and comfortable for the little guy.  We didn't start using the Rock 'N Play until Owen was about 4 weeks old, since then Andrea and I have slept more comfortably knowing he is in a safe bed for his age.  We keep it in his nursery and plan on using it until he is about 3 months old.  The insert is also machine washable and dryer safe.  All of this for about 50 bucks, not too bad.
Dad says: 
The Rock 'N Play is easy to pack and set up.  I haven't timed myself, but we are talking just two or 3 seconds. When it comes to sleeping arrangements and SIDS, there are two concerns to keep in mind. Don't have your baby sleep on his/her tummy and have materials the baby can breathe through for boundaries. The hammock-like crib accommodates both of these needs.  Another really cool feature is that it rests on slightly curved rockers. A gentle push will get this thing rocking. Even if Owen gets fussy and starts to squirm it is enough for him to rock himself.
Mom says: (paraphrased by dad)
Having the baby sleep at an angle helps with reflux and gas. This is wonderful after a nighttime feeding, because I feel like Owen is able to stay comfortable. The sides angle in nicely so that Owen has a tucked-in feeling.   It is also light enough for me to easily move around the house, even with him in it.
Owen says:  –  ZZZzzzzzz
Rating
I am giving this product a rating of 5 out of 5.  It is convenient, safe, affordable and gives Owen a restful sleep each time.