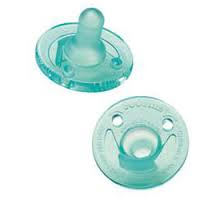 My son goes bonkers over this pacifier. We have tried only a couple of different pacifiers, and this is the one that keeps him happy.  Apparently, most lactation consultants recommend this pacifier because it helps your baby practice good nursing habits such as keeping their tongue down.   It's the natural shape of a real nipple.  While this sounds great in theory, it's not without its drawbacks.
Dad says: The single piece of medical grade silicone is nice and all until it hits the floor. Not kidding!  A Soothie Pacifier can't just land and stay in place.  It takes off like a football, you never know where it is going to bounce… Actually you do know where it is going to bounce- the most difficult place to reach.  Some may say this pacifier is ugly, but I think it is cool to be able to see inside his mouth while he is going to town on it.
Mom says: I like the little squeaky sound it makes when he sucks on it. Some problems I have with this pacifier is that it does not fit a standard paci clip that attaches to their clothing.  Also since it is the natural shape of the nipple it does not stay in his mouth very well.  This is why most pacifiers have a flatter nipple.  There are some tricks we have learned to get him to latch on well, but it is a learning curve for both the parents and baby.
Owen says: Feels great, but I wish it would stay in my mouth better.
Rating:
For a premium pacifier this price is not so bad, but considering the issues of it  easily falling out, bouncing when it hits the floor and it does not fit a standard clip I gave the Soothie Pacifier a 3.5 out of 5.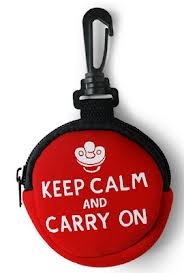 Not impressed? If you throw in this nifty carry bag then the rating for the Soothie Pacifier jumps up to a respectable 4 rating.  We keep this attached to our diaper bag. It has saved us on numerous occasions by always keeping an extra Soothie close at hand.