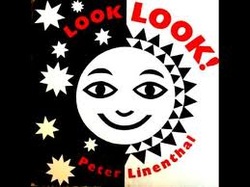 Andrea received a newborn book titled Look Look! by Peter Linenthal.  It's a picture book, but what makes this particular book stand out from the rest is the concept behind it.  All of the pictures are black and white which present each illustration in high contrast.  The claim here is that it stimulates newborns since they haven't fully developed their color vision yet.   Judging by Owen's reaction to the book, we think Linenthal is on to something.
Dad says: Owen loves this book. It's really cool to watch him as we turn through the pages.  Each illustration grabs his attention.  He coos, laughs and reaches for the book each time we read through it.  It's a great way to have him wind down before bedtime.
Mom says: It's fun to watch him look at it.  He is starting to track objects as they move and he follows this book so you know he is interested in it.  This book as been a great help in that we have used it already to start a bedtime routine.  After Owen's bath he knows it's Look Look! time.
Owen says: A cat stretches!
Rating: 5 out of 5!  Several weeks ago I posted on reading to your newborn. Look Look! is perfect for getting your newborn used to reading.  I have bought any more of these high contrast newborn books, but Look Look! certainly makes me want more.