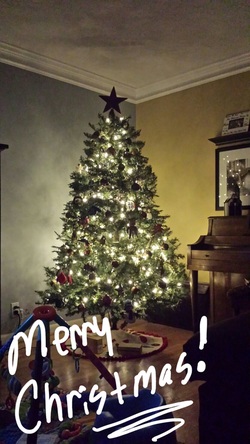 It's the most wonderful time of the year.
I find this little lyric hard to believe. It has been mentioned on this blog before that I love to people watch. Christmas is the penultimate people watching holiday of the year and it makes for some dramatic scenarios.  You know what I am talking about.  There are the arguing couples in the checkout lines, the enraged horn blower driving behind you, the mobs fighting for the discounted electronics, the cursing father fighting the Christmas lights, and the depressed mom unable to afford her children's ridiculous wish list.  Then there are those my heart is genuinely burdened for, the ones dreading the 25th of December because they don't want to spend it alone. Perhaps it's the their first Christmas without a loved one, or maybe their kids decided not to visit this year.
If Christmas is suppose to be the most wonderful time of the year, then why does it seem at times it's more like hell than peace on Earth? Christmas can bring a slew of painful experiences, some legit, others superficial and selfish. Regardless of the pain or its source, the Gospel is always the answer.  It should come as no surprise then that the people who hurt the most during Christmas are the ones who have forgotten the purpose of our celebration.
It is funny to me how many secular Christmas movies out there that are about finding the meaning of Christmas. From Elf and how the Grinch Stole Christmas with Jim Carey to The Santa Clause and Fred Claus, these movies and all the ones in between try to tackle a question that already has a blatant answer.
"What is the true meaning of Christmas?"
Every time I hear little Cindy Lou Who sing, "Where are you Christmas?" I cringe. It almost kills me. In fact I think I lose years from my life after each exposure, no matter how brief.  Now look, if you have a fun family Christmas tradition that includes How the Grinch Stole Christmas, and one of your favorite parts happens to be the song previously mentioned, that is one thing.  Just do me a favor and use that moment to teach your kids that Little Cindy 'No-Clue' Who is right to believe that Christmas was missing something, but the conclusion that she comes to, although a nice sentiment, is wrong. It's not about having love in your heart.  Sorry Elf, but Will Ferrell is wrong. It's not about spreading Christmas Cheer, whatever that is.  Nice try Tim Allen, as wonderful and important family is, you got it wrong in The Santa Clause.  Christmas isn't even about family.
Don't get me wrong, love, family and spreading cheer are great, and celebrating Christmas for what it is will feature these as a by-product. But it's got to start with the Gospel. Christmas marks a time on the calendar where God's children collectively celebrate the birth of our Lord and Savior, Jesus Christ.  God could have just given Earth one more spin, said good luck and then moved onto something else, but instead he gave us the most precious, costly, and perfect gift of all.  Jesus is precisely what we needed, anything less would have been pointless, the human condition would never improve- the gap between God and man would have remained forever. Jesus came and lived a perfect example for us to follow.  Not only can we follow his footsteps and live a life free of sin, but he also offered us a plan of salvation through his death. We can live a life free of sin with a promise of eternal life, and it's all through grace because we don't deserve any of this.  Now that is some Christmas present, and something worth celebrating.
When you remember the reason for Christmas, your perspective changes. Parties, gifts, dinners, traveling, concerts, decorations and all of the other trimmings that come with the holiday work their way down the priority list in light of the story of salvation.  If you find yourself struggling to get into the Christmas spirit then ask yourself, am I observing the true meaning of Christmas?
This is easy to apply to the people who struggle with making Christmas a materialistic buying extravaganza, but what about the people dealing with depression and hurt? I say this as tender-hearted as possible, but I believe the Gospel still applies here as well.
Christmas again isn't about keeping family traditions, or reliving more light-hearted times of your past. The story of salvation, Jesus's birth, is a promise of life and life to the fullest. I can understand the pain that comes with Christmas if you are missing a loved one that has passed on, but remembering the Gospel and proclaiming Jesus's birth as your reason for celebration is the first step to accepting the joy that is to be had this season. Sure there will be difficult bouts of sadness and loneliness, but the joy of the Gospel can help you conqueror these trying times.
I think it can be easier to remember Christ this season if we change our default perspective.  Rather than, "Gee, how are we going to fit Christ into all of this holiday business," try instead, "How are we going to fit all of these Christmas traditions around our time of observing Christ?" Traditions are great, but they have to make way of what really counts.  Merry Christmas everyone.  Now go spread some of that Christmas cheer, and let me know what it is if you happen to figure it out.
Side note (didn't know how to fit this in without making this post a rant)
Wishing someone an angered Merry Christmas after they wish you a Happy Holidays is NOT spreading the Gospel.
Merry Christmas