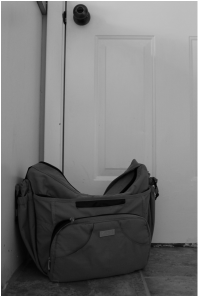 You might be planning on inducing, or you could be holding out for the actual due date. I am not a baby expert, but from the stories I have heard I have learned that babies come when they want. So as the dad of this outfit I have taken it upon myself to prepare our getaway car.
I want one of ours cars ready to make the trip to the hospital with minimal effort. People have accused me of going overboard with this precaution. The way I see it, if it helps to bring the stress level down for Andrea, then it is worth my time. Besides, you never know what may bring you to the hospital earlier than planned. It may not be the baby, but a medical emergency for mom. We had a minor incident in our family where the mother had to be admitted to the hospital for an issue unrelated to her pregnancy. Eventually they decided to induce 3 weeks early and they were at the hospital for several days. Sure, it wasn't all terrible that they were stuck at the hospital without their belongings, but it could have helped to bring the stress down had everything already been in a bag.
There are a lot of things you need to bring for your stay at the hospital. If you haven't prepared a bag beforehand then you can bet you will you forget something behind. The following is a simple list of things to make sure you have packed away in separate bags that can all be put in one large getaway bag.
For the mom– Hair tie, night gown/pajamas, slippers, socks, flip-flops, underwear, coming home clothes, body lotion, hair brush, lip balm, toiletries and then girl stuff-There is no need to go in detail here. Seeing how this is a blog geared for men I will not estrogenize (yes I just made that up) this site by mentioning things like sanitary pads. They know what they need and chances are if you try to pack it you will just get it wrong. I suggest having them pack this stuff in small separate bag then you can put it in your main bag. Just remember to ask them to pack all of their… paraphernalia .
For the baby- Car seat, diaper bag, clothing, nail clippers, blankets, burp cloths, options for warm/cool clothes. Most hospitals tell low-risk mothers to bring two pairs of clothes for the baby. You may want to go ahead and have the car seat installed and tested at a car seat inspection station. I'll share more on that in a future post.
Comfort/entertainment- You will more than likely be at the hospital for a couple of days, might as well stay comfortable. Items to consider include; pillows, blankets, some form of entertainment, cameras, computers, tablets/pads, cell phones and all of the chargers. You may not want to keep all of these items in the getaway bag, so as we get closer to the due date I will keep a separate electronics bag. That way these items are still available for home use while at the same time ready to leave when necessary.
For the dad- Paper work, (things to consider would be health insurance info, waivers, pre-admission forms). All of your clothes, toiletries, anything you may want work on.
Don't forget things like prescriptions, eye contact care, or even food. High calorie snacks are always good to have around. It's easy to forget these types of things when the only thing on your mind is getting your wife and baby and safely to the hospital.
Side notes:
I have asked several moms what they wished they had brought to the hospital. Almost all of them said they brought clothes for a cold room, but wish they had prepared for a hot room.
Since I wrote this post Andrea and I were stuck in a traffic jam for nearly an hour. We would have been in trouble if it had lasted much longer as Andrea was very uncomfortable and thirsty. For now on I will make sure we have water in the car for her. Unfortunately, there still isn't much I can do when she needs to use the restroom.
If you have anything you would like to add please share in the comments below. Take care and God bless.