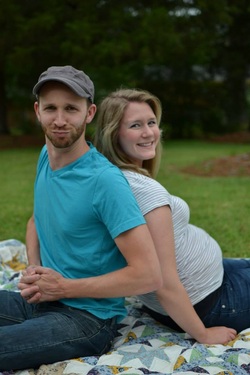 Years ago some thrilled, soon-to-be mother thought it would be wonderful to capture her image as an expecting mom. They must have been charming pictures. Her album has inspired possibly millions of mothers to do the same. I don't know who she is… but I would I love to wring her neck. What started as a precious ritual in celebration of new life turns into a sadistic rite of passage when the less than photogenic father is asked to participate.
All kidding aside- I hate taking pictures. There is a reason why no one looks happy in the old time photos. They knew at the get-go of the anguish that photography would bring for the rest of time and humanity. To be honest I am not quite sure why I hate it so much. It's not that I can't stand being still for a short period of time. I also enjoy being around loved ones in close proximity. There is no explanation for my disdain of posing. To make matters worse, maternity pictures demand more of me. It's not good enough that I stand still and smile like I am enjoying myself- not hardly. I am pushed several steps further, to the point where it is expected of me to behave abnormally. It's not enough that I just hold my wife's hand; no we must be interlocked in the most uncomfortable fashion. We were embraced like hopeless romantics separated by an unfair world, or in this case a bulbous baby bump. Our pictures even feature a bum shot of yours truly. That is right. In the background my gorgeous wife stands out of focus caressing her tummy while my bum stands in the foreground like a satirical reminder of the shortcomings of male beauty. The only redeeming factor I offer in the photograph is the picture of my son's ultrasound peeping out of my pocket .
There are multiple lessons to be learned from this experience. One for my wife and another powerful reminder for myself. The latter being that if we can't get a decent photo of my face then chances of us capturing a picture that brings any justice to the image of God drastically decreases when we focus on my bum. As for me I had a wonderful reminder of how easy it is to bless my wife. Yup easy. All I had to do was suck it up and endure the humiliating and macabre task of picture taking for half an hour with a smile. My initial reaction was to whine, but God pulled me aside and told me to be selfless. I knew it was important to her for me not only to be involved in the pictures, but not to be such a killjoy about it. I have learned that it is always worth the investment I put into my wife, even if it means subjecting myself to the soul-sucking camera. Turns out that I actually enjoyed myself. We had fun and I learned something about myself. I never knew my bum was so photogenic.
Men give to your wives. Something is programmed into them to always give back. Don't believe me?  Give it a try. I know it is easier said than done, but the return is always worth the initial deposit.
If interested in seeing the pictures follow this link. https://www.facebook.com/andrea.s.kay.33/media_set?set=a.661584833342.1073741826.181100712&