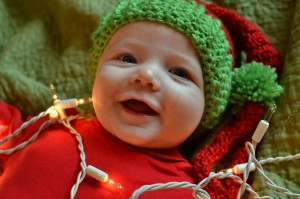 The people who loved me most gave me a proper heads up.  I had been thoroughly warned that a baby would radically change my life by the time Owen arrived.  However, no one cared to tell me, or they just assumed I knew, that my Christmas was going to be radically changed as well. For those of you expecting a baby in the upcoming months, consider this your warning.  As for you parents who already endured the yuletide season with their first child, I can only apologize that this post has come to  you on this Christmas Eve.  If anything else, maybe you can relate.  The following is a list of 4 ways a baby changes Christmas.
Gifts
That's right mom and dad, it's no longer about you. Your parent's have a new child to dote upon this season and you aren't quite that special little somebody that you once were. Expect to spend most of your Christmas morning tearing open gifts that your child doesn't have a chance to ever unwrap on their own.  If you are lucky, you might still get a pair of socks… actually if you are lucky, your parent's will realize that you are even there.
Pictures
I've kept no secrets about my disdain of picture taking. (See Maternity Pictures: The Horror) First there was maternity pictures, then delivery pictures, followed by newborn pictures (apparently not the same) then you have monthly pictures to log your child's growth.  Don't forget all of the shots for each season, family vacations and all of the cute impromptu moments in between.  There is no comparison to the hubbub that is to be had while taking Christmas pictures.
Santa Picture- We place our child in an unfamiliar man's lap with bristly whiskers and expect our child to smile throughout the entire shoot.  Not going to happen, unless your kid is smiling because of gas.
Baby's first Christmas photo- We cycle our kids through several different outfits with all of the Christmas accessories including, but not limited to, Snowman bibs, Rudolf booties, and Santa hats. Again after a dozen poses, and just as many sets, we wonder why we can't get our child to smile.
Family photo-  If everyone is smiling ,the baby is crying. If the baby is smiling, everyone is looking at the baby. As a result, the picture hardly ever comes out.
New Traditions
Christmas up to this point has been all about visiting family and keeping old traditions.  Now that you have started a family of your own, it isn't uncommon to feel the urge to want to start your own set of Christmas traditions.  Mothers are practically setting themselves up for disappointment when they start their own list of everything they hope to achieve this season.  Here is a sample list.  Keep in mind, that not all items listed may be directly related to a baby, but must be done while a baby is present.
Create a cute Christmas letter of baby to send to everyone
Get a new stocking with baby's name
Make/order baby's first Christmas ornament
Visit all of extended family and show baby off
Have alone time with just us and baby
Read a Christmas book every night
Bake lots of goodies
Decorate nursery
Get a cute holiday outfit
send out cute thank you cards for baby's Christmas gifts
Get a picture of us doing everything on this list
To miss any item on this list would mean utter failure for the mother and a ruined Christmas… perhaps a ruined childhood.
Special Events
There are parties to crash, cantatas to enjoy, special services to attend, parades to watch plus more pressure than ever to visit both sides of the family this Christmas. Somewhere along the line, while scheduling out the month of December it was forgotten how difficult it can be to travel with an infant.  For some reason, babysitters are hard to come by this time of year too.
The Reason for the Season
All jokes aside, the biggest change this Christmas season comes when I consider the gift we received, God's son. Several times now, I have stared my son in the eyes only to get lost in the mystery of the Messiah. The God of the universe came to Earth incarnated in the most vulnerable form.  No matter where I find myself throughout the year, I must remember that my greatest need came in the form of a helpless babe.  A baby is God's promise fulfilled, His convenient upheld, His panacea for a dying world. Even though Israel had abandoned God time and time again, He still gave them the gift of salvation through His son, Jesus Christ.  The gift is  still here.  No matter how many times we abandon God.
Yeah, a baby sure can change things up this time of the year, but when observing the miracle of the virgin birth and the unfathomable amelioration of the human condition…  it seems altogether quite appropriate.